Tuna Auction Watching Tour (4:00-8:00) (WT15)
We offer a range of personalized services from organizing small private tours to large group tours. All of our tours are lead by nationally licensed guides, who conduct the tour for you in English, or we also offer our services in many other languages; French, Spanish and Chinese, etc. (Please contact us if you have further enquiries regarding your preferred language.) Our guides are trained professionals who have a broad knowledge of Japan's culture, geography and history, as well as sightseeing spots of interest. Our guides can offer you an invaluable insight into the heart of Japanese life, culture and tradition.
Tsukiji Fish Market Walk Tour Calendar
Please use this calendar when you'd like to check the dates.
| | | | | | | |
| --- | --- | --- | --- | --- | --- | --- |
| Code | Tour Title | | | | | |
| WT01 | Fish Market Walk & Sushi Making (8:30-13:30) | | | | | |
| WT02 | Fish Market Walk and Sushi Lunch (8:45 - 12:00) | | | | | |
| WT03 | Fish Market Walk -from Station (8:45-10:45) | | | | | |
| WT06 | Fish Market Walk -from Hotel (8:15-10:45) | | | | | |
| WT07 | Fish Market and Asakusa Walk -from Hotel (8:00-12:00) | | | | | |
| WT15 | Tuna Auction Watching Tour (4:00-8:00) | | | | | |
*It might be rarely happens that you can not watch Tuna Auction because of the limited number of visitors. In this case, we will pay back 5,000yen for each person.
Program Fee
(Per Group in Japanese yen)
Number of
Participants

1

2

3

4

Over 5people *1

4:00 - 8:00
*1: each additional person
*Include Sushi Breakfast.
*If you so desire, it is also possible that you meet your guide at your hotel. Pick-up service rate is 1,500 yen per each group each way within 45 minutes from the location of the experience. Transportation cost is not included.
Meeting Place
4:00 Osakana Fukyu Center Tsukiji Market (Meeting Place Map / Area Map (Check the red pin))
*Depend on the situation, it may chage the starting time of this tour. Please acknowledge it.
*Please read this file before. (PDF)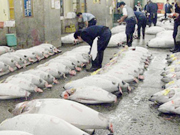 Preparing Tuna Auction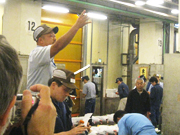 Tuna Auction
Tour Point
Experience the energy and excitement of Tokyo's premier morning Fish Market – Tsukiji. See first hand as the early morning brokers seriously check deep inside the famous Tuna, using flashlights, as they assess the all-important quality. Then it's time for the Tuna Auction from 5:30am and 6:00am. Participants can experience this exciting daily event live.
Our professional tour guides will show you around the market safely in a small, exclusive group. You will also enjoy browsing various kinds of shops selling fish, vegetables, and dried seafood in the outer market.
After you watch the auction, you will eat a special sushi as your breakfast.
Notes
*The maximum number of participants is  4 persons per group. If the participants number more than 4, another guide is added.
*Please wear comfortable shoes. The auction room is chilly so we recommend dressing accordingly and wearing a jacket.
Application Procedure
Step1: Please send the following information to IJCEE at info@ijcee.com.
1. Desired program name 2. Desired date and time 3. Number of participants (including children) 4. Group leader's name 5. Group leader's nationality 6. With or without pick-up
Step2: IJCEE will reply and inform whether or not the program is available.
Step3: Please purchase ticket(s) using the form below. You can pay with your credit card, debit card and PayPal acount.
When you click the "add to cart" button, you will be directly transferred to the PayPal shopping cart page. Please change the quantity if you would like to buy more than one ticket. Following this, please click the "Proceed to checkout" button.
Tuna Auction Watching Tour (WT15)
(4:00 - 8:00)
"View Cart" Button
Please use this button when you'd like to check "Your Shopping Cart".
*If the number of quantity is incorrect, check the "remove" button and click the "update cart" button (on "Your Shopping Cart"). The quantity will return to 0.
Step4:Payment from PayPal will be sent after receiving the program fee from you. Please come to the meeting place on the day with the copy of the mail. IJCEE staff will be waiting for you with name plate.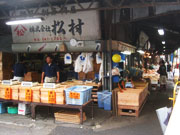 Outer Market of Tsukiji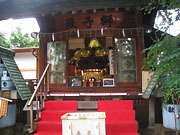 Namiyoke Inari Shrine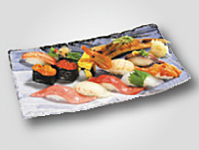 Sushi Breakfast