True Japan Tour Co.,Ltd. / Institute for Japanese Culture Experience and Education -IJCEE
Profile
Business Contents:
[1] School of traditional Japanese culture
[2] Counsel of Tourism-based community developments
[3] Experience of Japanese culture. guided tour
President:
Membership:
601 (Oct. 1st. 2014)
Address (Head Office):Koishikawa Koryuan
Floor 4 Sasaki Bldg B, 2-5-7 Koishikawa, Bunkyo-ku, Tokyo, Japan 112-0002
*Access Map for True Japan Tour Col.,Ltd./IJCEE Koishikawa Koryuan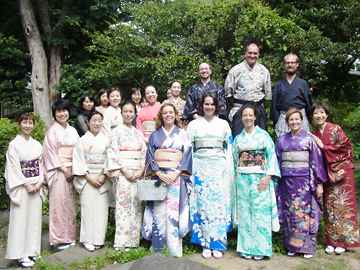 Kimono Dressing Experience
Contact Us
Tour Guide Interpreters
Bilingual guide interpreters will introduce to traditional and modern Japanese culture through fun and interesting experiences.
More than 500 qualified Guide-Interpreters belong to IJCEE. They will expertly guide you with warm hospitality and total dedication in English, French, Chinese, Spanish and Korean.
<Guide-Interpreter Law>
This law stipulates that the guide-interpreter business is to escort foreigners and to give them guiding services concerning travel with the use of a foreign language for a consideration.(Article 2) It means that if you get a fee for guiding foreigners in a foreign language without the guide license, it is illegal even though you're doing it as a part-time job. As it is the business to give services to foreigners, the phrase like "to escort foreigners" or "with the use of a foreign language" is a matter of course. And the phrase "guiding services concerning travel" shows that these services include quite a wide range of traveling in Japan such as services related to travel, means of transportation, restaurants, souvenir shops and so forth.
Japanese Cultural Experience Instructors
IJCEE supports many members and works (176 members) with a wide variety of collaborators specializing in many unique, diverse aspects of Japanese culture. Including:
<Japanese Culture>
Tea Ceremony, Flower Arrangement, Calligraphy, Kimono / Yukata, Furoshiki Wrapping, Origami (Paper Folding), Washi Paper Craft, Kimekomi-Ningyo Doll, etc.
<Food>
Home-cooking, Healthy Food, Sake Tasting, etc.
<Martial Arts>
Aikido, Kenbu (Dance with a sword), Sword Fight, Ninja, Judge of Swords, etc.
<Music>
Tsugaru Shamisen, Okinawa Shamisen, Koto, Shakuhachi (bamboo flute), Shinnnai / Joruri (traditional narrative ballad), etc.
<Artisans/Arts>
Kamisuki (Washi paper making), Ukiyoe Wood-block Prints (printer of wood-block prints), Japanese Paints, etc.
Facilities
*True Japan Tour Co.,Ltd./IJCEE flexibly responds to your requests. We can provide support for fairs, trade shows, exhibitions, international conventions, programs at your hotel and hiring rooms from Ryokans.
[Specialhall Example]
Kaikouen (a tea house in Shimizudani Park) (Access)
National Olympics Memorial Youth Center (NYC) (Access)