Mukojima geisha show and walk around the geisha district
Mukojima is the famous geisha district called Hanamachi (literally "flower town"), which is home to the largest number of geisha in Japan. You will enjoy "Hana no Ozashiki", a geisha show with fascinating songs and dances. After the show, government-certified English speaking guides will show you around the old downtown areas such as the district of geisha and high-class Japanese restaurants in Mukojima and the popular sightseeing spots in Asakusa, where the flavor of old Edo culture still remains.
Report : Geisha walking & flower-town Frames (Feb 23, 2010)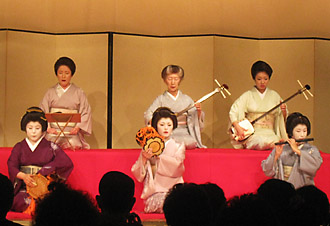 Tour fee / Participants
9,000yen (admission charge for geisha show, lunch and soft drink and guiding fee are included)
20 pesons (on a first-come and first-served basis)
Dates/Time Duration
Sat. February 20, 2010 / 9:45 - 15:00
Meeting Place/Meeting time
9:45a.m. / A3 exit (ground level) of Oshiage Station (Tokyo Metro Hanzomon Line or Toei Asakusa Line)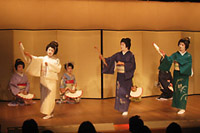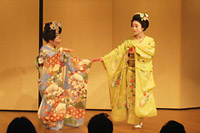 Tour itinerary
9:45 - 11:30
Lecture on the world of geisha and lunch (Japanese boxed lunch)
12:00 - 13:00
"Hana no Ozashiki" geisha show at a hall in Mukojima Bokutei Kumiai (geisha and restaurant association)
13:15 - 15:00
Walk around the geisha district in Mukojima, Sensoji Temple and Nakamise shopping street in Asakusa.The tour disbands at Asakusa Station.
Notes
*If you have any food-related allergy or dietary restrictions, please inform us in advance.
*You will take off your shoes and sit on the floor when you watch the geisha show.
Inquiry
E-mail: info@ijcee.com
Phone: 090-1607-5099 Yonehara or 080-3313-1107 Kikuchi
Application Procedure
RSVP is required. Please purchase ticket(s) from below. When you click "add to cart" button, you will move to PayPal shopping cart page. Please change the quantity if you would like to buy tickets more than one. And click "Proceed to checkout" button.
Walking tour visiting haunted places in Kamakura
"View Cart" Button
Please use this button when you'd like to check "Your Shopping Cart".
*If the number of quantity is not right, check "remove" button and click "update cart" button (on "Your Shopping Cart"). The quantity will return to 0.
Process4:Payment from PayPal will be sent after receiving the program fee from you. Please come to the meeting place on the day with the copy of the mail. IJCEE staff will be waiting for you with name plate.
Cancellation Charge (Cancellation Policy)
If the notice of cancellation is received, the following cancellation rates will apply.
(1)3 days prior to the program date: 20 % of the program fee
(2) 2 days to noon (Japan Standard Time) of the day before the program date: 50 % of the program fee
(3) After noon (Japan Standard Time) of the day before the program date: 100 % of the program fee
* Refund Fee (in addition to the cancellation fee if there is any) will apply for paid bookings cancelled anytime before the program date. 1,000 yen will be deducted from the total amount paid by credit card or bank transfer.