Sake Brewery and Mini Cruise 1Day -from Hotel (ML03)
(Fushimi Inari Shrine / Jukkoku Bune / Sake Cellars and Brewers)
Kyoto has a large cultural legacy coming from its 1200 year-long history. We at IJCEE offer special private tours in Kyoto at affordable costs. Our government-licensed guides will meet you at your hotel, and take you not only to major tourists' spots but also to lesser-known alleys and markets. At the end of the tour, you will agree that the best feature of Kyoto city is the mixture of the new and the old!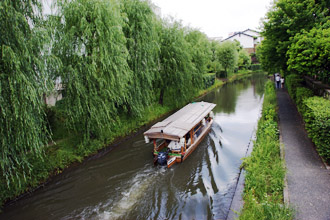 Tour Information
Apr, May, Oct, Nov
Every day 9:30~16:00
Jun1 - Sep 30
Every day except Monday 9:30~16:00 (not including national holidays)
Dec1 - Mar 31
Program is closed
*Prior booking required for all tours
Program Fee
(Per Group in Japanese yen)
Number of
Participants

1

2

3

4

Over 5people *1

Fushimi Day Tour
Sake Tasting (optional)
*1: each additional person
Sake Tasting Fee (optional) : 1,000yen (base rate) + 2,000yen per person participating
*The tour price includes the guide fee, transportation fee, sake cellar admission fee, boat tour fee and a drink at a café (the cost of lunch is not included).
(English guides are always available. Please contact us if you need French or Spanish guides.)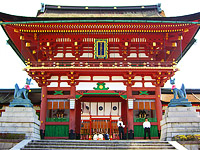 Fushimi - Inari Shrine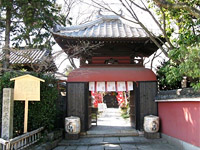 Chokenji Temple
Tour Schedule
Pick up at your hotel
(The picking applicable hotels are limited to the hotels between Higashi-oji-dori and Nishi-oji-dori (to the east and west) and Imadegawa-dori and Jujo-dori(to the north and south). If you need a taxi or a hired car, an additional fee will be charged.)






End of tour
(Tour guide will assist you how to get to the subway station or the nearby bus stop for your next visiting spot or your hotel.)
Notes
*Please wear proper clothing and shoes for walking.
Application Procedure
Step1: Please send the following information to IJCEE at info@ijcee.com.
1. Desired program name 2. Desired date and time 3. Number of participants (including children) 4. Group leader's name 5. Group leader's nationality 6.Your hotel in Kyoto
Step2: IJCEE will reply and inform whether or not the program is available.
Step3: Please purchase ticket(s) using the form below. You can pay with your credit card, debit card and PayPal acount.
When you click the "add to cart" button, you will be directly transferred to the PayPal shopping cart page. Please change the quantity if you would like to buy more than one ticket. Following this, please click the "Proceed to checkout" button.
Sake Brewery and Mini Cruise 1Day (ML03)
"View Cart" Button
Please use this button when you'd like to check "Your Shopping Cart".
Sake Tasting Fee (optional) (ML03_op1)
*If the number of quantity is incorrect, check the "remove" button and click the "update cart" button (on "Your Shopping Cart"). The quantity will return to 0.
Step4:Payment from PayPal will be sent after receiving the program fee from you. Please come to the meeting place on the day with the copy of the mail. IJCEE staff will be waiting for you with name plate.
Sake cellars and brewers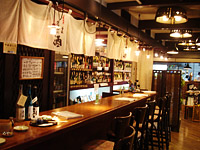 Ginjo Shubo Aburacho
Cancellation Charge (Cancellation Policy)
If you cancel your reservation, the following cancellation rates and remittance charge will be charged.
(1) 14 days - 3 days prior to the program date: 20 % of the program fee
(2) 2 days of the day before the program date: 50 % of the program fee
(3) a day before the program date: 100 % of the program fee