Kyoto Fish Market Walking and Sushi makingat at a private residence (8:00) (KMS01)
Explore Kyoto Central Wholesale Market with our government-licensed guide. After enjoying shopping various fish including fresh tuna from the market, you will be invited to a private house and then have a chance to learn how to make three kinds of sushi.
Dates/Time Duration
[Mon],[Tue], [Thu], [Fri], [Sat] (Except for national holidays, Aug.4-16,Dec.25-Jan.8, 2011)
8:00 - 13:00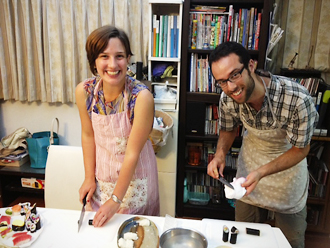 Making Sushi at a private house
Program Fee
(Per Group in Japanese yen)
Number of
Participants

1

2

3

4

Over 5people *1

8:00 - 13:00
*1: each additional person
*Experience fees are included.
Meet at your hotel (Meeting Place)
Our guide will pick you up at your hotel. We can take a taxi or public transportation with you.
*The picking applicable hotels are limited to the hotels between Higashi-oji-dori and Nishi-oji-dori (to the east and west) and Imadegawa-dori and Jujo-dori(to the north and south). If you need a taxi or a hired car, an additional fee will be charged.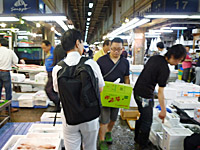 Kyoto Fish Market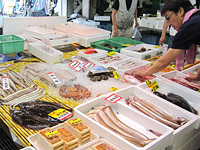 Various fish you'll see.
Tour Point
Kyoto Fish Market Walk
Kyoto has been a center for Japanese food culture, where an unique Kyoto cuisine have been produced through events such as tea ceremonial occasions. In Michelin guide 2011 in Kyoto, seven restaurants were awarded three-star the number of which comes right after Tokyo. Kyoto Central Wholesale Market plays an important role as "The Kitchen of Kyoto" since the inauguration in 1927 as the first central wholesale market in Japan. Our government licensed guide will escort participants around the market, safely in a small group, exploring both the vegetable and fruit areas plus the impressive seafood section. Guests on this experience will also enjoy browsing in various kinds of shops selling all manner of ingredients from fish to vegetables and nori (dried seaweed), plus in the outer market participants can shop for dried goods and kitchen utensils.
After buying various ingredients, participants will visit a private house. The guide will give you information about Japanese culture and everyday life in Kyoto during transfer by public transportation.
Sushi Making
The sushi making will be instructed in detail by the guide who is also practiced on sushi-making. Learn to prepare "maki sushi" (rolled sushi), "gunkan maki" (sushi rice wrapped with a strip of seaweed and topped with soft ingredients), and "nigiri sushi" (sushi rice topped with a slice of raw fish). The beautiful sushi designs created are sure to delight and will appeal to guests of all ages, especially children. You will surely cherish this rare and precious experience as a great souvenir in your trip in Kyoto!
Sushi Party
After making sushi and arranging them beautifully, it's time for a sushi party and to enjoy eating together.
Following the tour participants may take with them the utensils used in the cooking lesson. Impress your family and friends with your new sushi making skills by throwing a sushi party at home – the perfect Japanese souvenir!
Our guide will take you back to the nearest subway station, or to the nearest bus stop, in order to provide the customer an easy access to the hotel or to the next destination.
Application Procedure
Step1: Please send the following information to IJCEE at info@ijcee.com.
1. Desired program name 2. Desired date and time 3. Number of participants (including children) 4. Group leader's name 5. Group leader's nationality 6.Your hotel in Kyoto
Step2: IJCEE will reply and inform whether or not the program is available.
Step3: Please purchase ticket(s) using the form below. You can pay with your credit card, debit card and PayPal acount.
When you click the "add to cart" button, you will be directly transferred to the PayPal shopping cart page. Please change the quantity if you would like to buy more than one ticket. Following this, please click the "Proceed to checkout" button.
Kyoto Fish Market Walk and Sushi making (KMS01)
"View Cart" Button
Please use this button when you'd like to check "Your Shopping Cart".
*If the number of quantity is incorrect, check the "remove" button and click the "update cart" button (on "Your Shopping Cart"). The quantity will return to 0.
Step4:Payment from PayPal will be sent after receiving the program fee from you. Please come to the meeting place on the day with the copy of the mail. IJCEE staff will be waiting for you with name plate.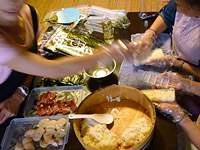 Let's enjoy sushi making!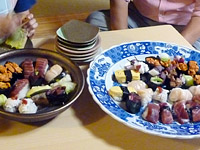 Beautiful sushi you will make
Cancellation Charge (Cancellation Policy)
If you cancel your reservation, the following cancellation rates and remittance charge will be charged.
(1) 14 days - 3 days prior to the program date: 20 % of the program fee
(2) 2 days of the day before the program date: 50 % of the program fee
(3) a day before the program date: 100 % of the program fee