Kawagoe Walk
"Kawagoe", an old castle town, nicknamed "Little Edo (the former name of Tokyo)". Why don't you visit historic sites dotting the city and enjoy the beautiful townscape, with a well-informed tour guide in this area?
Tour fee / Participants
10,000yen (per group)
*Extra fee per hour 2,500yen
Dates/Time Duration
Every day. (Prior booking essential)
4hours
Meeting Place
JR Kawagoe station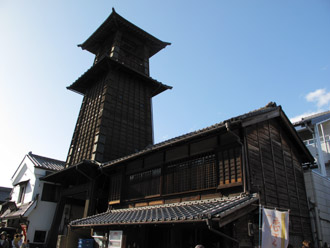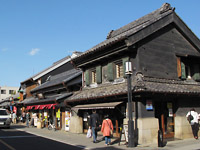 Kurazukuri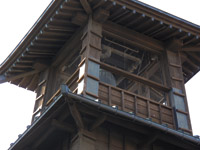 Bell Tower (Tokino Kane)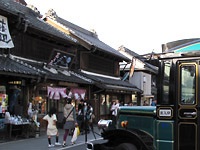 It's called "Little Edo"
Tour itinerary
The city of Kawagoe is a 30-minute train ride from Tokyo. It has a lot of cultural properties and historic sites which represent the culture of the Edo era (17th – 19th century). So you can enjoy an old fashioned atmosphere in Kawagoe and it is comparable to Nikko and Kamakura.
Kawagoe had a close relation with Edo as a military base for the defense of Edo and a commercial base for transportation of goods and other materials to Edo. Since the Edo castle and its surrounding area lost almost all historical properties in the devastating earthquake in 1923 and the bombing in World War Ⅱ, the cultural properties of Kawagoe have become extremely valuable to recall the culture of old. Japan has many towns and cities which call themselves "Little Kyoto", but Kawagoe is one of the three cities called "Little Edo!".
As transportation is convenient, a day trip from Tokyo to Kawagoe is highly recommended. Without distinction of age or sex, everyone can enjoy a wide variety of tourist attractions of Kawagoe as follows:
Hikawa Shrine
Kitain Temple
Bell Tower (Tokino Kane)
The historic street lined by storehouse merchant house (Kurazukuri)
The ruins of Kawagoe Castle (Honmarugoten)
Small lane of tiny candy shops (Kashiyayokocho)
Kawagoe Festival Museum (Kawagoe Matsuri Kaikan)
Kawagoe City Museum
Kawagoe Festival (held on the third Saturday and Sunday in October)
Reported by the national certified English speaking tour guides
Kumi Yasui wrote : "Kawagoe is a perfect place to enjoy the true gem of Japan. (Read more>>)
Keiko NOGAMI wrote : "Though fires are tragic…. Visit to Kurazukuri Museum. Walking on the street of Kawagoe, the city of Kurazukuri. (Read more>>)
Kazuko Ogawa : "500 Rakans. On the premise of Kitain Temple, you can see 538 unique statues of stone, (Read more>>)
Tomomi Kodama wrote : "As the temple's name says, (much hapiness) Kitain temple gave me much happiness. (Read more>>)
Rie Sato wrote : "Shimmery black walls along the main street, the hundred year old buildings in a great depth, and the modest sounds of the time of bell will take you to the nostargic trip to old Edo. (Read more>>)
Shioji Todokoro wrote :"As Kawagoe flourished by trades with Edo, old Tokyo in the past, the city was under the influence of Edo culture. (Read more>>)
Harumi Yazawa wrote : "Kawagoe has unique food culture. (Read more>>)
Michiko Matsushima wrote : "My name is KAWAGOE. I am an old castle town, 30 minutes by train from Tokyo. (Read more>>)
Inquiry
E-mail: info@ijcee.com
Phone: 03-3868-3260
Application Procedure
RSVP is required. Please purchase ticket(s) from below. You can pay with your credit card, debit card and PayPal acount.
When you click "add to cart" button, you will move to PayPal shopping cart page. Please change the quantity if you would like to buy tickets more than one. And click "Proceed to checkout" button.
"View Cart" Button
Please use this button when you'd like to check "Your Shopping Cart".
*If the number of quantity is not right, check "remove" button and click "update cart" button (on "Your Shopping Cart"). The quantity will return to 0.
Payment from PayPal will be sent after receiving the program fee from you. Please come to the meeting place on the day with the copy of the mail. IJCEE staff will be waiting for you with name plate.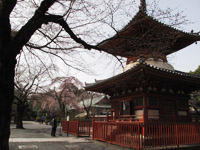 Kitain Temple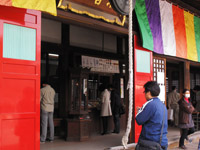 What would you wish?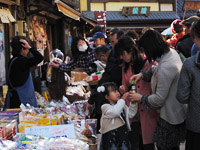 Small lane of tiny candy shops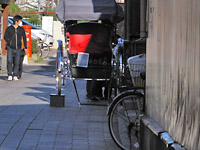 Walk down the historical street
Cancellation Charge (Cancellation Policy)
If you cancel your reservation, the following cancellation rates and remittance charge will be charged.
(1) 14 days - 3 days prior to the program date: 20 % of the program fee
(2) 2 days of the day before the program date: 50 % of the program fee
(3) a day before the program date: 100 % of the program fee