Institute for Japanese Culture Experience and Education -IJCEE-
Acess to IJCEE Koishikawa Koryuan
Address:
Floor 4 Sasaki Bldg B, 2-5-7 Koishikawa, Bunkyo-ku, Tokyo, Japan 112-0002
Stations near by:
1. Kourakuen Sta. Exit.4b (Subway Marunouchi Line/Subway Nanboku Line)
3min walk
2. Kasuga Sta. Exit.6 (Subway Oedo Line/Toei Mita Line)
6min walk
3. Suido-bashi Sta West Exit (JR line)
12min walk
From the stations
1. From Korakuen Sta:
Marunouchi Line 22 M22 / Namboku Line 11 N11
Exit.4b...There is a park Isokawa in front of the station. Across the park and walk up a little bit. There is a crossing. Cross to the opposite side. Walk through the street in front. The second building to your right is the Sasaki Bld.
2. From Kasuga Sta:
Mita line 12 I12 / Oedo line07 E07
Exit 6...Please walk up the roads towards Bunkyo Civic Center. Keep on waling up the hill as waching Civic Center to your left, there is Koishikawa Shine. That is the Sasaki Bld.
When you need help, please call us.
03-3830-0451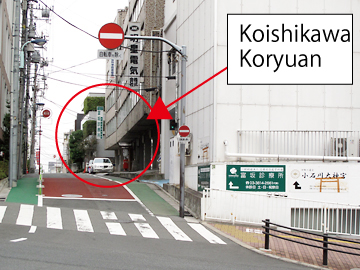 Contact Us