Tuna Auction Watching & Sushi Making (4:40) (WT09)
Watch the excitement of the tuna auction at the world's biggest fish market in Tsukiji. After picking up some ingredients you like at the market, you will visit a Japanese house and make your own sushi.
Dates/Time Duration
[Mon],[Tue], [Thu], [Fri] (Except for national holidays)
4:40 - 12:30
*As a really rare case, you couldn't watch the tuna auction, because it has 120 people limitation.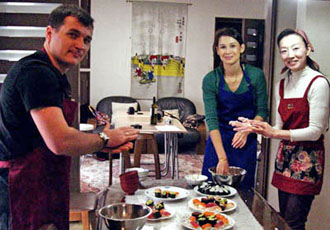 Making Sushi at Home
Program Fee
(Per Group in Japanese yen)
Number of
Participants

1

2

3

4

Additional fee
over 5people
(every person)

4:40 - 12:30
*Experience fees are included.
Meeting Place
4:40 Osakana Fukyu Center Tsukiji Market (Meeting Place Map / Area Map (Check the blue pin))
*A guide can pick you up at your hotel on request. We can take a taxi or public transportation with you. Pick-up rate is 1,500 yen for 1 group each way within 45 minutes. Transportation cost is not included.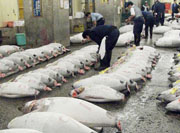 Checking Tuna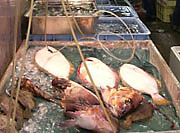 Inner Market of Tsukiji
Tour Point
Tsuna Auction at Tsukiji Market
Experience the energy and excitement of Tokyo's premier morning Fish Market – Tsukiji. See first hand as the early morning brokers seriously check deep inside the famous Tuna, using flashlights, as they assess the all-important quality. Then it's time for the Tuna Auction from 5:30am and 6:00am. Participants can experience this exciting daily event live.
Our professional tour guides will show you around the market safely in a small, exclusive group. You will also enjoy browsing various kinds of shops selling fish, vegetables, and dried seafood in the outer market.
Inner and outer market walk
Especially attractive are more than 480 kinds of seafood such as fish, shells, and prawns in the seafood section, where you can see a complete tuna being cut and filleted. You will also enjoy browsing various kinds of shops selling fish, vegetables, nori (dried seaweed), and dried seafood in the outer market. You will buy some ingredients such as tuna for making your own sushi at a home.
Making sushi at home
Ms. Kuniko Kikuchi, a food advisor of healthy food featuring ingredients such as soybeans, will show you how to cook sushi. She has a rich experience abroad and a good command of English. (In case she is not available, one of her students will instruct you.)
You will make three kinds of sushi, Maki sushi (roll sushi), Gunkan-maki (a small clump of sushi rice wrapped with a strip of nori and topped with soft ingredients), and nigiri sushi (a clump of sushi rice topped with a slice of raw fish). You can make them easily by using special utensils. You will be surprised to see good shapes of sushi you made. After making sushi and arranging them on the plates beautifully, it's time for a sushi party!
At the end of the tour, the guide will take you back to the nearest station, Oji or Akabane Station of the JR Keihin-tohoku line.
Application Procedure
Step1: Please send the following information to IJCEE at info@ijcee.com.
1. Desired program name 2. Desired date and time 3. Number of participants (including children) 4. Group leader's name 5. Group leader's nationality 6. With or without pick-up
Step2: IJCEE will reply and inform whether or not the program is available.
Step3: Please purchase ticket(s) using the form below. When you click the "add to cart" button, you will be directly transferred to the PayPal shopping cart page. Please change the quantity if you would like to buy more than one ticket. Following this, please click the "Proceed to checkout" button.
Tuna Auction Watching Tour & Making Sushi (4:10)
"View Cart" Button
Please use this button when you'd like to check "Your Shopping Cart".
*If the number of quantity is incorrect, check the "remove" button and click the "update cart" button (on "Your Shopping Cart"). The quantity will return to 0.
Step4:Payment from PayPal will be sent after receiving the program fee from you. Please come to the meeting place on the day with the copy of the mail. IJCEE staff will be waiting for you with name plate.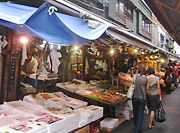 Outer Market of Tsukiji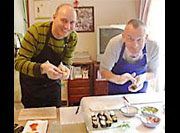 You could be a sushi chef!?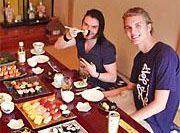 Sushi Party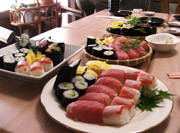 Beautiful sushi you will make